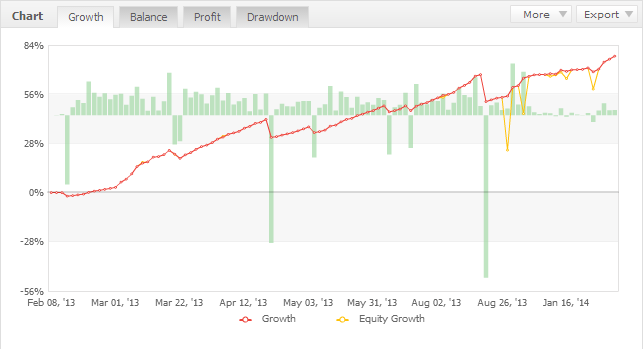 Results: (Link to myfxbook – http://bit.ly/cazfxbook)
Today 2/13: 1 Trades, 1W – 0L, 100% win rate, +14.8 pips, +1.00%
Week 7: 2 Trades, 2W – 0L, 100% win rate, +28.8 pips, +1.96%
FEB '14: 8 Trades, 6W – 2L, 75% win rate, +64.1 pips, +4.42%
Total: 106 Days, 362 Trades, 271W – 91L, 74.9% win rate, +2378.0 pips, +77.76%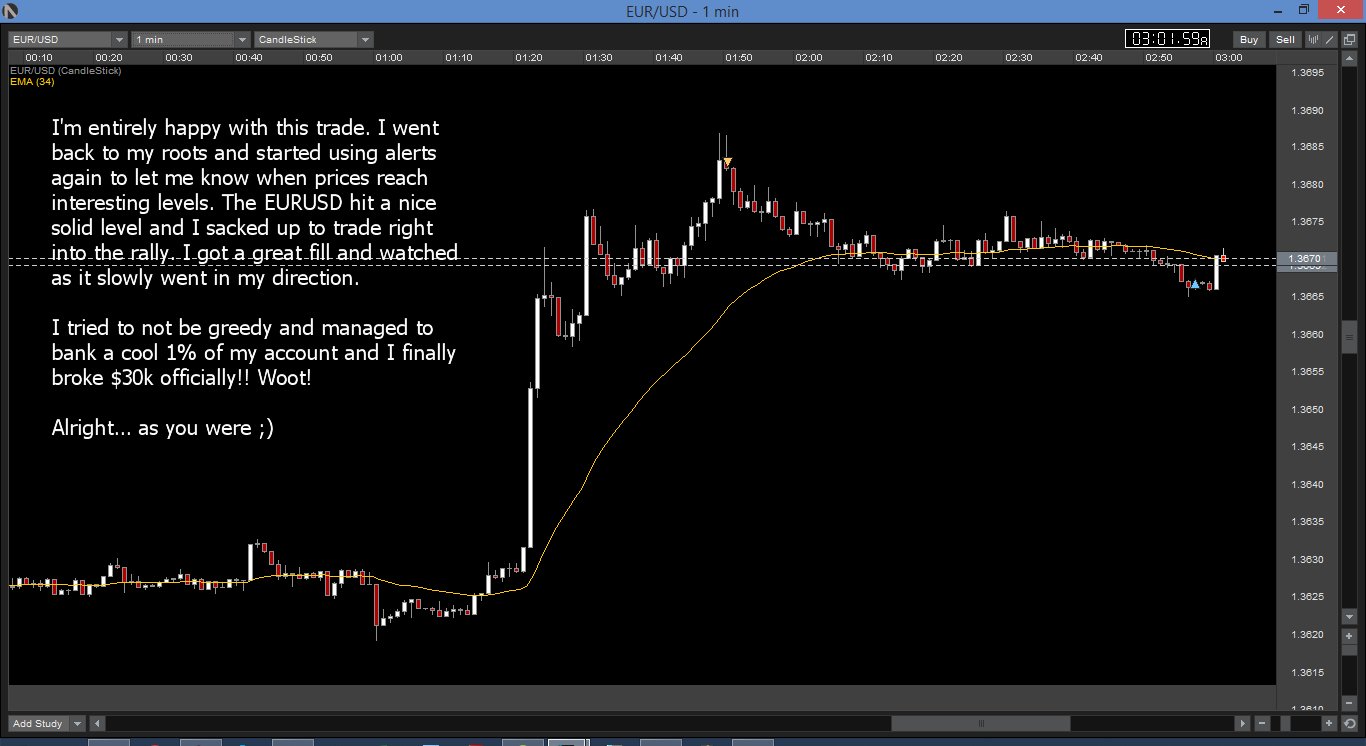 *** Make sure to read the bold paragraph at the bottom!!
Alright… a few things here. It's hard to see from the chart, but the EURUSD has an average true range (ATR) of about 77 pips and with the help of some news it had been boosted up to 79 pips early in the session which was one of the contributing factors to this trade. It was also a pretty strong price level of previous resistance that I felt would be compounded by the rally into the ATR. I was able to be patient and wait for this level because I went back to my old friend the price alert on my trading platform.
Overall I'm very happy with this trade. I had pretty much an ideal entry and my exit was okay… in the chart it looks like an amazing exit… but in the elusive world of hindsight the price continued to move another 7 pips lower. Eh… I got the lions share of a minor move in just a smidgen over an hour… Which ultimately means I'm ecstatic.
Two days in a row I got pretty fantastic entries and patience is 100% to blame. I'm going to bed happy with myself and my trading AND… my account broke into the $30k range all official like!! HUGE HUGE milestone. Tomorrow is a new day, so I will enjoy it while I have it. Until then.
One other note… Price alerts!!! I have no idea why I stopped trading with them… This is actually really important and should probably be bolded… hang on…  Okay, that is much better. In fact I'm going to notate the top of this entry to make sure I read this paragraph… One sec.  Alright… SO… I have been struggling pretty bad recently with my 3 month nightmare trade and the whole getting-beat-up-during-all-of-January-and-most-of-February thing and I've been wondering why I can't trade as well as I did when I first started a year ago… What has changed? Why am I struggling so much where before I seemed to be cruising?
I can't say it's all because I've been trading without alerts, but I do remember when I used to trade with them and how I considered it to be STOOPID effective. I even have a couple blogs entries posted on exactly those thoughts and feelings (I think). Now… it could be nothing more than coincidence that I have been going though a tough time, but it could also just be that PRICE ALERTS ARE VERY HELPFUL YOU JACK-HOLE!! "YOU" meaning "ME" btw… 
So here is what I have been doing… that I did way back when I was a just a kid cutting my teeth on the trading shindig … I go over each currency that I track, and while taking into consideration the ATR, I select levels of support and resistance that seem to be likely areas of rejection and then I set a price alert at those levels. Rinse and repeat on all the currencies… then… I stop looking at the charts and watch "Big Bang Theory" or play a video game or just doze. If the price alert GONG goes off… I know I'm at an interesting price level and can monitor… If it doesn't… then I go to sleep and more than likely get woken up and have no idea where I am when said GONG goes off.
The point is… it's built in patience… and in a game where patience is not only valuable, but MANDATORY… it should go without saying that manufactured patience as awesome the cool side of the pillow! Coupled with my new found rule of closing EVERY (almost) trade -20 pips without exception (except when I don't)…and my earned insight into price action from 1000′s of hours of watching candles being created out of thin air… I should have a much stronger selection of trading opportunities that are exactly that… opportunities, and not forced observations and conjecture that fits a paradigm I create just because I'm antsy and want to put a trade on. BAH!! So dumb…
Anyway… long way to say that it's time to get back to the old school tactics… Whether it's just coincidence or not… I got 14.8 pips tonight pretty handily… and alerts can easily be the difference.
Last note… I was also prepared to close my trade for break even if it came back at me. I was like that on the last session too… I really like the idea of NEVER letting a winning trade go negative…. ever. It will be hard I'm sure, but I think it's one of those "never trade without it" kinda rules.
OKAY!! Good post… good session… good perspective and insight… good night!